[ July 3, 2014 –
November 30, 2014
June 21, 2015
extended!
] ]
What does "Comfort Woman" mean? Is there any proof? The government didn't do anything bad, did it? I heard the women just wanted money. Was the Japanese army really uninvolved? Find answers to these questions and more!
In 2007, Prime Minister Shinzo Abe was roundly condemned by the international community for his preposterous insistence that 'comfort women' were never under any compulsion from the Japanese military or government authorities. During the same period, WAM held its 5th Special Exhibit entitled, "'Comfort Women' Exhibit for Middle School Students." The exhibit employed a Q & A format easily understandable by middle-school students and Prime Minister Abe alike to explain the structure of colonial rule and the system of sexual slavery known as the Japanese military 'Comfort Women' system. It also included displays on the violence and suffering that took place in comfort stations set up in regions throughout the Asian Pacific.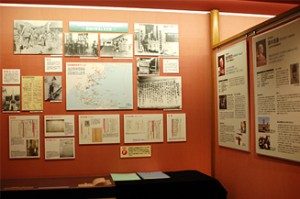 Now, Prime Minister Abe, having returned to power in December 2012, is repeating his outlandish claims while scheming to revise the "Konno Statement" through which the government apologized in 1993 for the Japanese military's involvement in the 'Comfort Women' system. WAM is responding by again putting on its acclaimed "'Comfort Women' Exhibit for Middle School Students," popular with young people for "making everything clear!" The exhibit has been updated to cover trends in international society over the last six years as well as changes in Japanese textbooks. Whether you're coming for the first time, or returning to see us again, we look forward to your visit.
---
Main Contents of the Exhibit:
What was the Japanese Military 'Comfort Women' System?
Providing the keys to understanding basic questions such as,
"Who created Comfort Stations and for what purposes?"
"Who supervised and managed the stations?"
Testimonies of Women forced to become 'Comfort Women'
"How were women taken to Comfort Stations?"
"What was life like there?"
Gripping testimonies of victimized women from regions throughout Asia
Attacks on School Textbooks and the Backlash
"Is middle school too early to begin teaching?"
Many victims were girls in their mid-teens.
The political backdrop behind the removal of descriptions from textbooks
NHK, Prime Minister Abe and the 'Comfort Women' Issue
An NHK program covering the 2000 International Women's Tribunal was modified as a result of interference by then Rep. Shinzo Abe.
The background of the appointment of Katsuto Momii to the position of Director-General of NHK
Testimonies of Perpetrators and Instillation of the "Corner for Public Documents uncovered since the Kono Statement (1993)"
Along with the panel on perpetrator testimonies: "What kinds of testimonies have been made by former Japanese soldiers?" a new corner has been set up where visitors can browse public documents uncovered since the time of the "Kono Statement."